TUPELO • If there's a single thing Kim Benefield has learned in her roughly 20 years in the field, it's that recovery is about far more than overcoming addiction.
"Recovery is in every part of our lives, and it doesn't have to do with just drugs and alcohol," the executive director of Southern Recovery Advocacy in Tupelo said. "Recovery happens when you come out of treatment. When you hit that pavement, you've got to live life on life's terms."
For more than two decades, Benefield has been using her experiences with battling addiction to guide others like herself down the path to recovery. That journey takes support, and for National Recovery Month, several local recovery advocates shared how their struggles have shaped their lives, and how they're using their stories to help reshape the lives of others.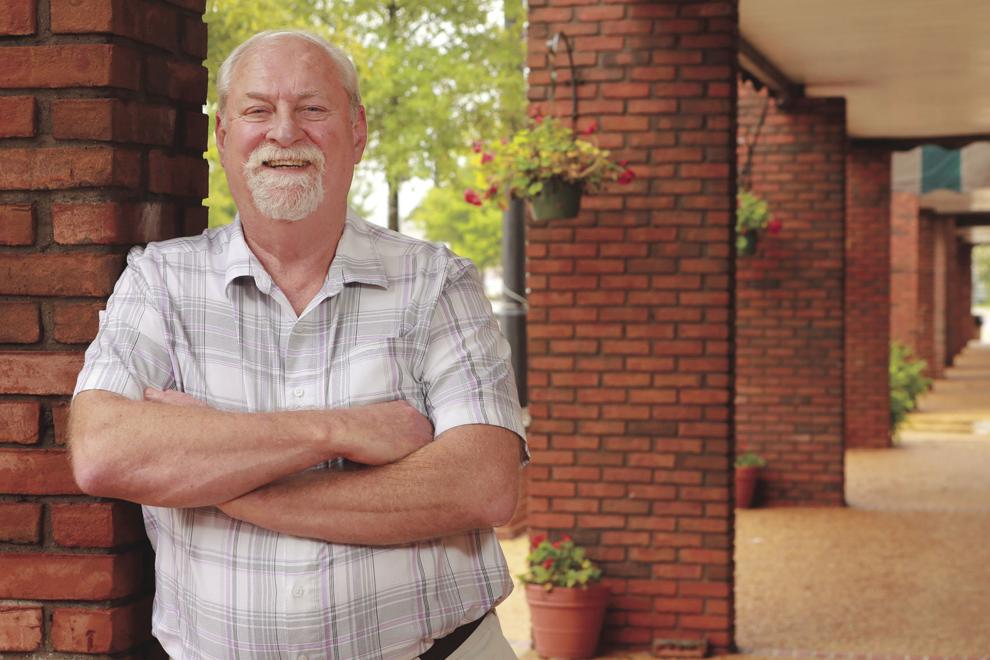 JW Wuichet: The disease in the corner of the room
Every morning, JW Wuichet wakes up and sees the disease of addiction sitting in the corner of his bedroom.
The first thing it says to him, every single morning, is, "Guess what I did last night while you were asleep?"
The answer, he said, is always the same.
"I've been out there killing people."
This voice both haunts and drives him.
"The disease of addiction will tell us we're worthless, that we have nothing to contribute," Wuichet said.
For years, Wuichet believed what that voice told him.
Years ago, Wuichet could have never imagined he would reach a point where he was working with a company to put people in treatment. His own journey to recovery began once he got out of prison. After 25 to 30 years of living what he called an "outlaw life," he knew he didn't want to go back to his hometown in North Louisiana.
So, in 1998, he moved to Tupelo to join his parents, family, and a 12-step group.
Wuichet said he wanted to kick his habits, but also didn't really know how to go about doing that. He thought a rehab program might help.
"I knew I was going to need some help navigating recovery," he said. "I was kind of ignorant to what that would look like."
In taking those early steps, Wuichet's parents served as role models. A father himself, Wuichet said his initial motivation to recover was largely driven by a desire to give his own children a safe place to live.
Over the years, he's found a support through his 12-step group. Being part of a sponsorship family and building community with others in recovery has shown Wuichet how to be responsible for his own recovery. Knowing he can be shoulder to shoulder with others sharing a similar experience, he said, has allowed him to stop living in fear of using again.
If they can do it, so can he.
"When someone starts talking about their experience, I know what it feels like," Wuichet said. "I lived it, so we say we've been in each other's skin. I can relate and found the community I can serve in."
Wuichet said he lives by a simple philosophy: Keep coming back and doing the things that work.
For him, that's recovery.
"There's a lot of different places where people can find their place. When they come in and sit in that chair, that chair belongs to them. They earned that seat," Wuichet said. "If they keep it, one of the days somebody else will walk in and they can welcome them and say, 'Welcome home.'"
In April, Wuichet celebrated 25 years of being clean. Despite his longtime sobriety, he said the negative voice — the one that speaks to him morning after morning — never goes away. But he's learned to keep other things close, and by doing what he describes as maintenance — going to meetings, staying in fellowship, and remembering the things that matter to him — he never gets to a point of relapse.
What he's learned through recovery is that when the voice says he's worthless, or that he has nothing to contribute, it's lying.
"I'm not going to believe the lie," he said. "My response to it is you didn't get me. I'm going to go out and tell the truth about you today."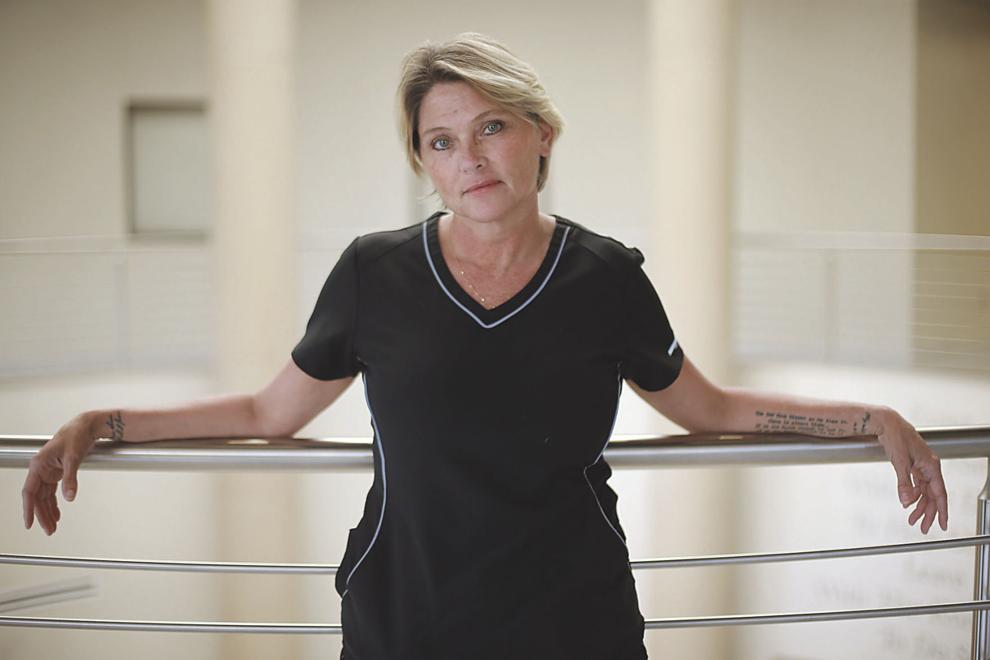 Angie Garrett: The purpose of her pain
In her search for deliverance from addiction, Angie Garrett went to every denomination of church she could find. She was baptized at all of them … saved again and again.
But something wasn't right. She didn't feel saved.
"It just wasn't happening," Garrett said.
Church was only a step in her road to recovery. Garrett also needed others like her — people battling for their own bodies and souls.
Although she eventually found recovery through a 12-step fellowship, she did get connected to a church family through her children and their great-grandmother, the late Robbie Gregory.
It was there where, for the first time in a long time, she felt like she truly belonged. Garrett found something that had been missing in her life.
"There, I found the support of some amazing women who took me under their wing and honestly taught me how to be a woman, a mom, how to be a housekeeper," Garrett said.
They were skills Garrett never learned growing up. When she was 14 years old, still a kid, she moved out of her home to fend for herself.
Garrett's own journey of recovery began in early 2006, when she entered a recovery program at Fairland Treatment Center in the Mississippi Delta. While there, someone shared a pamphlet for the Mississippi Association of Addiction Professionals (MAAP) with her, and from that moment on, she knew what she wanted to do for a living.
Over the 94 days she spent at Fairland, Garrett found people who were nonjudgmental, compassionate, and understanding. They gave her something she was missing: Hope.
She wasn't a lost cause; her pain had a purpose. That purpose was to help others.
A brief return home for her 12-year-old son, Jake's, baptism strengthened her resolve. While speaking with the pastor beforehand, she learned her son had desired to be saved because of her.
"His explanation to the pastor at that time was he recognized what God could do because he had seen the change in my life," Garrett said.
When she finally exited treatment and returned home, Garrett was full of hope but low on resources. She hadn't worked in three years and lived in a storage unit. With no money, car or even a license, she wasn't sure how to get on her feet.

'A little bit of openness': Project Solution changing lives, provides employment to homeless individuals
The church and her children's great-grandmother helped provide funds to get her license and a car. A doctor's office in New Albany took a shot and hired her. They even allowed her to take a day off work each month to attend certification classes in Jackson.
It took Garrett nearly three years to complete her drug and alcohol classes and put in the hours needed for her certification, but the patience has been worth it. Today, Garrett serves as a drug and alcohol counselor, is a certified Mississippi Association of Addiction Professionals (MAAP) member, and an interventionist.
She believes "trauma is the gateway drug" and feels God put a hedge of protection around her by bringing in people to support her. Now, as a person who works in the field of recovery, Garrett recognizes the value of being in a community with others in recovery.
"God took the thing that was supposed to kill me and turned it into the thing that now feeds my family," she said.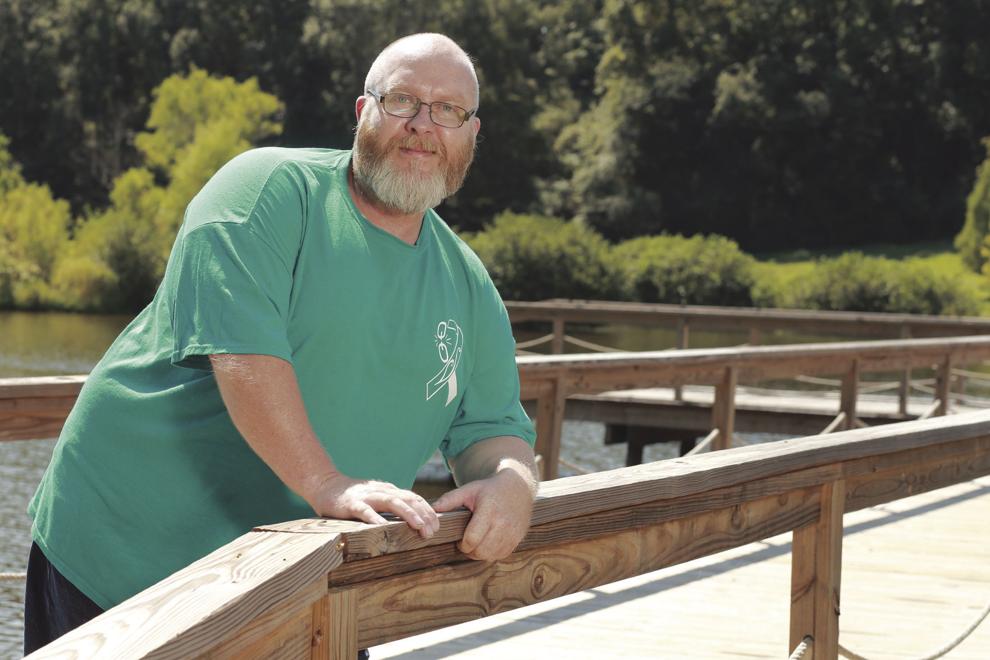 Kenneth Wade Cox: A transformation of the body and soul
Kenneth Wade Cox, a trainee with Southern Advocacy Center and peer support member, leaned on his military roots to find purpose. Cox has struggled with addiction on and off all his life, but from 2016 to 2019, it became unmanageable.
After finding himself in legal trouble, Cox wound up in drug court and, later, veterans court, which specifically caters to the needs of veterans struggling with addiction.
Once there, he admitted to himself that he couldn't recover alone.
"I made a conscious decision that, whatever these people told me to get sober, that's what I'm going to do," he said.
Cox said he turned to his faith to guide him to where he needed to be.
"He led me to Imagine Counseling and Miss Kim (Benefield)," Cox said.
After entering rehab and therapy, Cox found a love for helping others who, like him, were struggling with addiction. Cox now attends Itawamba Community College, and plans to become a certified drug counselor.
It's been 20 years since Cox last set foot inside a classroom, and the return to school has been a big shock all around. But it's also opened his eyes.
"To cure an addict, you have to do it on a holistic scale. It has to be a total mind, body, soul transformation," Cox said. "We take it from inside all the way out into the world."
Cox said he's had to learn how to see the psychology behind the 12-steps program. Peer support is important for him because it provides a group of people with whom to feel comfortable talking about life and the issues he faces without feeling judged. He sees peer support as helping with peripheral issues, such as housing, jobs, and transportation. Psychology looks into the mindset, including emotions, spiritual health, and self-care.
Cox, who had served in the military for four years following high school, found that his fellow brothers in arms were there to help when he got in trouble. Veterans court encouraged him to get back into his community and military roots. He received assistance from Veterans Affairs and got involved with veteran life with the American Legion. It helped remind him of a time he was proud of who he was and showed him he was not alone.
"No matter how long you've been out of the service, you still feel that closeness to someone who served," Cox said. "I felt like it was gone because I had gotten so far away from even doing what's legal, much less what's right. But for them to offer it back to me in veterans court . . . it really, really brought me back."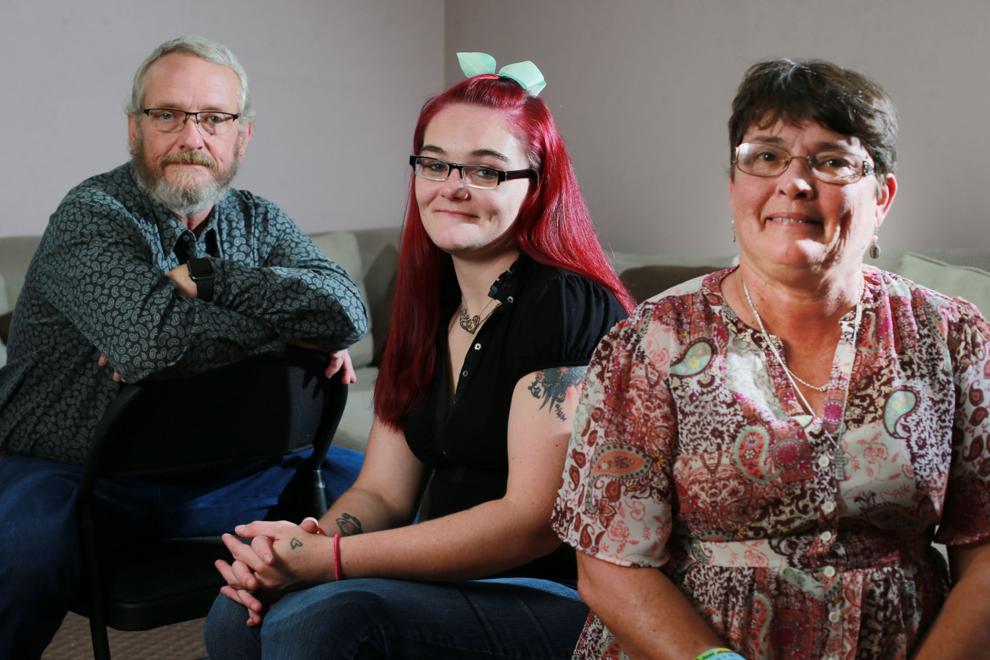 A community of recovery
Kim Benefield recognized there was a gap in treatment for recovering addicts and wanted to do something about it.
Before she became executive director of Southern Recovery Advocacy in Tupelo, Benefield was in active addiction for many years. Though she had tried recovery programs before, it wasn't until she got jail time and attended drug court that she turned things around.
After graduating from drug court, Benefield returned to the treatment facility to offer peer support. She did that for seven years, and eventually began doing assessments for drug court.
While working, she she realized the need to provide the life skills needed alongside recovery, and she became enmeshed with Southern Recovery Advocacy with the goal of providing a safe haven for people in recovery.
As part of the program, the staff of Southern Recovery Advocacy assist participants with all aspects of their lives, whether parenting, budgeting, and other skills, and they provide peer support that first year or so into recovery until they are ready.
"It's about recovering as a whole," Benefield said. "Family, children, it ain't just about the one person, it's the whole family getting help. I think our community misses that sometimes, and that's a big issue."
Benefield is also part of the National Alliance for Mental Illness (NAMI), which looks at mental health, and notes how addiction crosses over different areas, from the court system to housing and employment.
"There's so many things, when you look at recovery as a whole, what is missing that we could have here in this community," Benefield said. "You know, this is a great community, it's just, there's little gaps that need to be fixed, and we're trying to help with that. We're trying to make it a holistic community."
Through her work, Benefield has been able to draw others into helping with the program. Tim Bowland is among them.
A volunteer and assistant with the program, Bowland is in long-term recovery. Three years ago, Benefield helped him even though he wasn't ready for it, he said. In May of last year, he went clean. After a year, he wanted to give back to the community that helped him.
Bowland knows there are many different avenues to recovery and tries to help participants find the program most comfortable for them.
"Treatment centers deal with the addiction issue, then after it's dealt with that, we help them (with) how to deal with life," he said. "A lot of people think addiction is a moral issue. It is not. Addiction is a disease."
Brittney Gilmore, a member of Southern Recovery Advocacy Support Group, came into the program because she had been in active addiction for nine years. On April 7 of this year, she found herself in a courtroom and agreed to a 36-month commitment to mental health court, part of the state's system of Intervention Courts.
Gilmore decided to get clean immediately. April 8 marked her first day clean. She spent a month in treatment and emerged a different person. That's when she became more involved with Southern Recovery Advocacy.
After staying clean for months, Gilmore wants to help with the peer support group to share her experience.
"As soon as I'm able, I'll be a part of their team instead of just a member of their group," she said.
It's a story those in recovery tell again and again. After getting help for themselves, they turn around and help others. Since starting recovery, she's gotten her kids back in her life, and has received family-based support.
"It's everything we need, no matter what it is, and that's why I wouldn't trade this place for the world," Gilmore said. "It's about what recovery is supposed to be about. It's trying to make you whole again."