Friday, October 15th, 2021
State may copy CrossFit program
By William Kincaid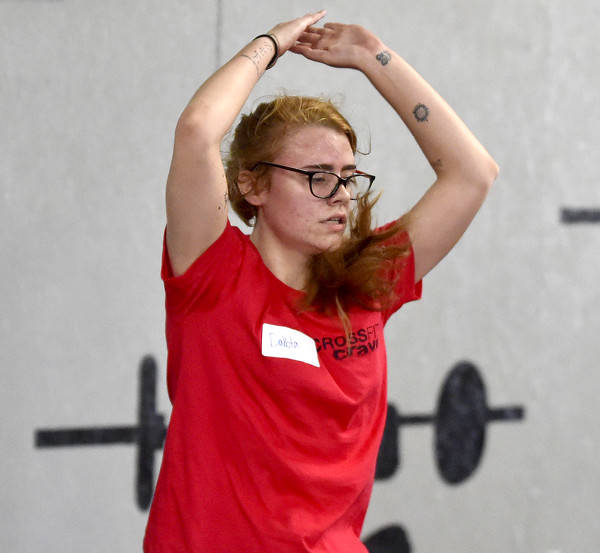 CELINA – Mercer County Juvenile Court's fitness-based Expanding Horizons program, a collaboration with CrossFit Crave of Celina, may be replicated across the state to combat youth violence and delinquency.
Matt and Jen Shindeldecker, owners of CrossFit Crave at 715 South Sugar Street, on Thursday hosted government officials from the state and numerous counties, among them Annette Chambers-Smith, the director of the Ohio Department of Rehabilitation and Correction, and Ryan Gies, director of the Ohio Department of Youth Services.
Also on hand were corporate executives with CrossFit, which champions a lifestyle characterized by safe, effective exercise and sound nutrition and has more than 14,000 locations across the globe.
The officials came to get a firsthand look at the Expanding Horizons program as they consider adopting it in their juvenile courts and youth and adult prisons.
Ohio Gov. Mike DeWine about six weeks ago voiced his concerns about youth violence and juvenile delinquency, said Andy Wilson, the governor's senior advisor for criminal justice policy. DeWine, who cares about children and has a heart for vulnerable populations, asked his staff to seek out state-funded programs that are finding success in rehabilitating youths, Wilson said.
"Kids who are court-involved and who have exposure to all these adverse childhood experiences are about as vulnerable as you can get," he said. "The governor understands wholeheartedly that if you're able to break the poverty or incarceration cycle for one kid, you're not just breaking it for that kid, you're breaking it for generations to come."
That's when he found out about Expanding Horizons, which is primarily funded through the state initiative called Reasoned and Equitable Community and Local Alternatives to the Incarceration of Minors (RECLAIM).
The state is now considering taking Expanding Horizons statewide, first in Champaign and Clark counties, Wilson said after the hours-long presentation on Thursday, as he took part in a workout with other officials and kids in the program.
Wilson said 75% of participants have stayed out of the juvenile probation program since completing Expanding Horizons.
"If we can take that and we can replicate it in other areas, matching up the right gym with the right juvenile court, we feel it certainly will benefit the kids in that community," he said.
Expanding Horizons, Matt Shindeldecker told the audience, is a holistic approach to well-being that addresses a juvenile's physical, mental and emotional health. It also aims to strengthen ties to the community, as many kids who stay on after completing probation pay a greatly reduced monthly membership fee of $10, which is diverted to a community need of their choice.
"One of the reasons we feel it's so successful … is it's a marriage between CrossFit and the counseling they receive," he said.
Juveniles are ordered into Expanding Horizons by probate/juvenile court judge Matt Gilmore. Before they hit the gym, they are given physicals as well as mental health assessments, differential diagnosis and treatment planning to their specific needs, according to Dr. Aaron Kuhn, a Rockford-native licensed professional counselor and addiction counselor who is a consultant to the program.
"Not every kid that we've assessed … from a psychological/mental health standpoint (is) able to do that successfully in the beginning," he said. "Through therapy and other work, they might able to transition to the CrossFit portion of it eventually."
The kids are supported in workouts by CrossFit Crave's staff of 17 coaches – and probation officers Angie Gehle, Craig Kremer and Jen Contreras, whom all sweat it out alongside them.
"I've got to believe (that) is an important part of the success knowing those kids know that those probation officers aren't asking them to do anything that they themselves are not willing to do," Gilmore said during a video shown to the audience ahead of the formal presentation.
The self-worth and confidence that many kids develop in the gym also translates over to the classroom and community, Shindeldecker said.
"Every time you come in here you have the opportunity to rise out of what you've come from. Always rise. We won't quit, you don't quit on us," he said. "They can take what they do here into the classroom. All of a sudden now they're doing homework because they realize, 'Hey, I can do something right, maybe I can do that right.'"