Is There An Ideal Diet To Follow If You Have The MTHFR Gene Variant?

Registered Dietitian Nutritionist
Registered Dietitian Nutritionist
Molly Knudsen, M.S., RDN is a Registered Dietician Nutritionist with a bachelor's degree in nutrition from Texas Christian University and a master's in nutrition interventions, communication, and behavior change from Tufts University. She lives in Newport Beach, California, and enjoys connecting people to the food they eat and how it influences health and wellbeing.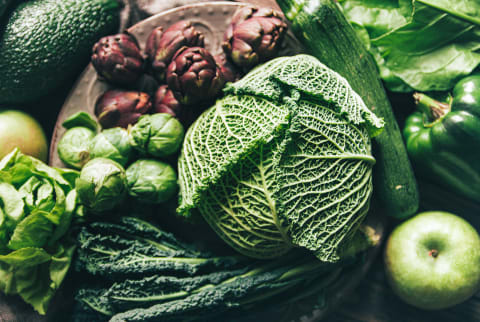 Image by Nataša Mandić / Stocksy
September 26, 2023
Sometimes, your genes don't always work in your favor. For those who have the MTHFR gene variant (and that's more than 50%1 of us), your methylation processes may not be running as smoothly as they should. 
Luckily, there are simple dietary changes (through supplements and food) that can help bypass the problem point of the MTHFR variant and support healthy methylation. Let's break it down.
First, a quick refresher on the MTHFR variant
MTHFR is an enzyme, and it's responsible for completing the last step in the activation process of folate (or vitamin B9) to 5-MTHF in the body. 5-MTHF is a crucial catalyst for other biochemical pathways (namely for helping convert homocysteine to methionine, but more on that in a bit). 
If you have a change in an MTHFR gene, the MTHFR proteins your body makes don't process folate as well as they should. And pathways that require bioactive 5-MTHF are impaired and now have a cog in their cycle.
This means homocysteine is more likely to build up in your blood. Usually, the body breaks down homocysteine pretty quickly, as this amino acid is supposed to be a by-product of methionine synthesis (not the main act). 
Methionine helps regulate everything from metabolism to immune health, and digestive health. So it's a good thing to have sufficient amounts of it in your system. 
However, high levels of homocysteine are linked to blood vessel damage and heart health issues. 
The biggest nutritional consideration for those with MTHFR
Since the MTHFR variant is directly tied to nutrient metabolism (folate), there is a nutritional solution: take in the already activated form of folate called methylfolate (or 5-MTHF). 
Methylfolate is only found in supplements. When you consume it, the body doesn't have to put in any additional effort to use and reap its benefits.* 
That's why mindbodygreen formulated methylation support+ featuring the readily absorbable Quatrefolic® methylfolate. Quatrefolic® is highly stable and readily absorbable to be used for cellular metabolism.*  
methylation support+ also includes bioactive B12, B6, and riboflavin. mindbodygreen's vice president of scientific affairs Ashley Jordan Ferira, Ph.D., RDN previously explained that she recommends these active nutrients to, "clear the noise of genetic variation and deliver effective nutrition solutions that are inclusive to everyone's genetic makeup."*
Betaine rounds out this formula. It is a major methyl donor, and high-potency betaine has been clinically shown to support homocysteine6 reduction and methionine regeneration—ultimately driving methylation function and health.*
So at the very least, people with a known MTHFR variant should consider supplementing with a methylated form of folate whether that's from a methylation-specific supplement or a multivitamin. 
Anyone taking a multivitamin or B complex supplement would also be doing their body a favor by opting for these superior methylated forms.*
Is there a specific MTHFR diet? 
Taking a methylfolate supplement (and other activated B vitamins) is the main nutritional recommendation7 for people with the MTHFR variant.
Otherwise, following a generally healthy diet (lots of fruit, vegetables, whole grains, fiber, high-quality protein, and healthy fats) is a solid start to promoting overall health and methylation. 
Cruciferous vegetables: The veggies (including broccoli, cabbage, kale, and Brussels sprouts) are folate-rich and contain the detoxification-supporting compound sulforaphane. 
Protein: While the body does produce methionine internally, the amino acid is also found in protein-rich foods8 like beef, lamb, cheese, turkey, pork, soy, eggs, dairy, and beans. This is another way to support optimal methionine levels in the body and keep methylation processes running smoothly. 
The takeaway
The main dietary adjustment that people with MTHFR should consider is a high-quality methylfolate supplement. methylation support+ is specifically designed to provide targeted MTHFR support with activated B vitamins.* 
Eating certain foods (like cruciferous vegetables, protein, and beets) can also support healthy methylation for those with MTHFR, but it's most important to consume a well-rounded diet rich in whole foods.
If you are pregnant, breastfeeding, or taking medications, consult with your doctor before starting a supplement routine. It is always optimal to consult with a health care provider when considering what supplements are right for you.