The Best Water Rowing Machines Of 2023 
Written by
Kelsea Samson is a writer, content manager, certified yoga instructor and founder of The Mindfulness Program for Kids and Yoga for the Blind in Tampa, Florida.

Expert review by
Personal trainer & holistic nutritionist
BB Arrington is NASM-certified personal trainer, holistic nutritionist, and sustainability advocate.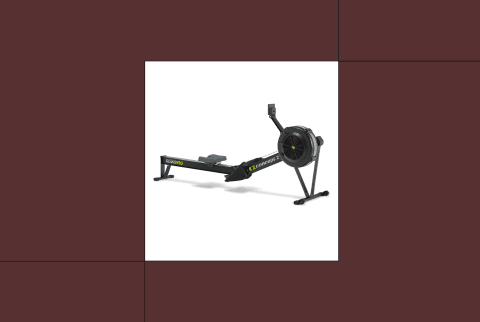 April 7, 2023
Our editors have independently chosen the products listed on this page. If you purchase something mentioned in this article, we may
When it comes to low-impact cardio exercise that also builds strength, there are few superior options to rowing. Rowing provides a wonderful workout that boosts your heart rate and engages around 85% of your muscles including your calves, glutes, abs, and arms. The best water rowing machines allow us to benefit from this exercise from home while saving a ton of money on gym memberships and boutique fitness classes.
Rowing is also a great form of exercise if you're recovering from an injury. To learn more about the benefits of rowing and how to choose the best machine, we consulted two certified sports therapists who specifically tout water rowing as the best way to simulate a realistic rowing experience with smooth, even resistance. 
Find our picks for the best water rowing machines of 2023 below.
The benefits of rowing
Again, rowing is an effective and efficient way to work a large group of muscles, such as your arms, abs, calves, back, and glutes. Not only is rowing a great full-body workout, but it's also an excellent form of exercise if you're recovering from an injury. In fact, in a 2014 study,1 injured participants found that rowing improved their joint injuries across the board in just eight weeks1. The same study showed a significant drop in body fat with regular rowing. Additional research indicates that rowing for exercise can improve quality of life2 too.
How to choose
Choosing the best water rowing machine means choosing a water rower that will work best for your space and wallet. Trevor Franklin, certified personal trainer and group fitness instructor in NYC, tells us his main criteria for choosing a water rower: "It's all about price and size. Now, that may just be because I live in NYC, where square footage is valuable, but I imagine most share a similar concern." 
Sarah Sponaugle, sports chiropractor and owner of Sponaugle Wellness Studio, suggests considering the rowing machine's functionality. Some models are foldable or compact, while others offer smart features and handcrafted aesthetics. "All rowing machines are going to give you a great workout as long as you get on it and use it," she encourages. 
While people tend to like water rowing machines more because of the consistent and constant resistance, Sponaugle makes a case for air rowing machines, too. "If budget and space are top priorities in your decision for purchasing a rowing machine, an air rower may be a better option. Many of the air rowers are lighter in weight, which makes them easier to move, and generally are well under $1,000 for a good machine," she adds. 
Regarding water rowers specifically, Franklin says, "The water on a water rower is also a much smoother experience, and the swishing sound is very pleasant." So, if you do decide on a water rower, you can expect to have slightly faster times than your friends on an air rower.
How we picked:
We picked rowers recommended directly by our experts, to ensure the highest quality, design, and function.
Whether you have a huge home gym or a small apartment, space is always a consideration. We found options that are foldable and can be stowed away or have a design fit to furnish your space. 
If this machine is going to sit in your living room, it should look the part. We chose designs that look as sleek as they feel. 
Features such as foldability, wheels, and high-tech offerings all came into play when evaluating these rowers. We've called out each product's standout features below.
The best water rowing machines of 2023:
Best quiet: NordicTrak RW900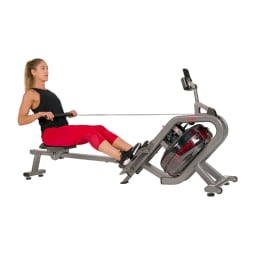 Pros:
High-quality instructors
Large variety of workouts
Auto-adjust resistance feature
In-depth stats about every workout
Cons:
Low weight limit
Expensive
How it arrives: Assembly required
Return policy: 30 days
Dimensions: 82″ x 22″ x 54″
Weight capacity: 250 pounds
Material: alloy steel
One of the most aesthetically-pleasing water rowers on our list, this machine has a modern design and sleek, touch-screen technology. Sponaugle calls out this model as one of her all-time favorite water rowers for its 26 resistance levels and smooth, quiet ride. You can row around the world with SMR™ technology while the auto-adjust feature lets your trainer adjust the machine's intensity, so all you have to do is sit back and row. Plus, the rower has excellent technology for creating and tracking milestones and goals. 
While the reviews for this water rower are mostly positive and comment on how fun the pre-programmed workouts are, some advanced rowers have said that the machine isn't challenging enough. The machine has 26 levels of resistance, but the highest level could still feel too light if you're used to very heavy workouts.
Best design: Ergatta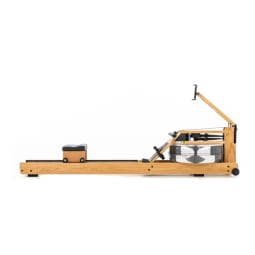 Pros:
Compact and stores easily
Includes programming and games
Hand-crafted in the USA
High weight capacity
Cons:
Only one resistance level
Expensive
How it arrives: Assembly required, can upgrade for professional assembly
Return policy: 30 days
Dimensions: 86" x 23" x 40"
Weight capacity: 500 pounds
Material: locally sourced cherry wood
As seen in our roundup of the best rowing machines of 2023, the Ergatta water rower is designed to be on display. It's hand-crafted with locally sourced cherrywood and features a sleek touch-screen monitor. Just note, there's just one resistance level on this rower to more closely mimic that of real water rowing. It also has game-based workouts to challenge you daily. Sponaugle recommends the Ergatta water rower, noting that it's enjoyable to use, which helps with one's consistency in working out. She also highlights how smooth and realistic the rower feels compared to real water. 
With an average rating of 4.9 stars out of 5 from 700 plus customers, it's obvious Ergatta is a rower favorite. One reviewer writes, "Ergatta is a very cleverly designed machine with multiple ways to psychologically hook yourself to wanting to come back (race others, race yourself, collect tokens, keep the ball in the target zone, relax with open row, unlock donation). This has resulted in one of my most consistent exercise programs ever."
Advertisement
This ad is displayed using third party content and we do not control its accessibility features.
Best foldable: Trunk water rower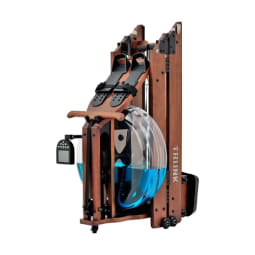 Pros:
Foldable design
Excellent customer service
Made from real solid wood timber
Cons:
Assembly instructions can be difficult to follow
How it arrives: In two parcels, assembly required
Return policy: 30 days
Dimensions: 84″ x 22″ x 20″
Weight capacity: 330 pounds
Material: wood
Our expert Trevor Franklin recommends this machine for a foldable, sleek, and ergonomic water rower that only takes up as much space as a three letter size paper when folded. It's less expensive than other options, and easy enough to store in the closet when not in use. The LCD monitor displays time, distance rowed, 500M split time, and the number of strokes per minute—so you can seamlessly track your performance and progress. The machine also comes in three colors of wood: black, contrast, and orange. 
The Trunk water rowing machine has a 4.5 out of 5-star rating on Amazon. Most negative reviews touch on the assembly instructions, but confirm that this machine is worth it once it's complete. One reviewer says, "I am very pleased with the rower given the price point. I use a professional rower at the gym and was worried this would feel inferior. It really doesn't. It easily folds up with no leaks if filled to the max amount."
Best technology: CityRow WaterRower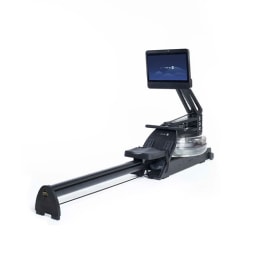 Pros:
19.5-inch touchscreen
Apple watch integration
Boutique-style fitness videos for on and off the rower
Rental option
Cons:
CityRow subscription required
Expensive
How it arrives: Assembly required
Return policy: No refunds
Dimensions: 83.5" x 22.5" x 20"
Weight capacity: 375 pounds
Material: wood
Both of our experts recommend the CityRow by WaterRower as the best smart water rowing machine. They give accolades to the immersive workout experience that this high-tech, multisensory rower offers. It features innovative water resistance technology and a 19.5-inch sweat-resistant touchscreen (the largest on our list) with a 30 degree adjustable viewing angle and high-fidelity speakers. It also pairs with your Apple Watch to sync every workout and display your stats in real-time to track your progress. The brand has thousands of on-demand classes taught by top instructors that are constantly refreshed, so you'll never get bored. 
This smart water rowing machine is the most expensive on our list, but you can opt to rent it in your home on a monthly basis to test it out. One reviewer writes, "I can't tell you how much I enjoy the classes on this rower. I've had a rower previously and I didn't use it because I got bored. But with Cityrow, I get excited to work out daily!"
Advertisement
This ad is displayed using third party content and we do not control its accessibility features.
Best budget: Mr. Captain Water Rower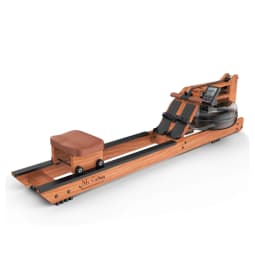 Pros:
Bluetooth monitor
Easily storable and has wheels
Made from natural solid wood
Cons:
Smaller monitor than other machines
How it arrives: Assembly required
Return policy: 30 days
Dimensions: 84" x 20" x 22"
Weight capacity: 320 pounds
Material: red walnut and solid wood
This professionally-designed water rower truly emulates the feeling of real-life outdoor rowing. It is the top budget-friendly choice of our expert, Sponaugle. With a three-type mode system that allows you to choose between manual, interval custom, and target, you can customize your workouts or connect to the FitShow app to level up your guided workouts. Bonus points for the multiple wood color options, which make it easy to fit this machine to your aesthetic. 
The rower boasts exclusively five-star reviews on the brand's website, which does always leave us a bit skeptical. That considered, people seem to love this machine. One writes, "I was pleasantly surprised with the quality of this rower! I was pleased to find that it is indeed solid walnut. Easy to assemble, easy to maneuver, and operate! I can already tell it will stand up to years of abuse."
FAQ:
What is the best type of rowing machine for home use?

Our experts are in unanimous agreement that the CityRow Max from WaterRower is the best water rowing machine for home use, if your budget allows. Each recommendation on this list has its own features, though, and all are great picks for establishing or enhancing a rowing practice.
Water rowing machine versus air rowing machine?

Franklin explains, "The biggest difference is going to be the metrics. Most people will row significantly faster on a water rower versus an air rower."
The takeaway
Water rowing machines are an excellent addition to your home gym if you're seeking a low-impact cardiovascular workout with full-body strength training. Keep in mind that the best water rowing machine for you will be one that fits your budget and space. Still not sure if water rowing is right for you? We've rounded up the best rowing machines that include magnetic, air, and hydraulic options. Next, explore the best home gym equipment to keep your workouts fresh, fun, and less expensive.