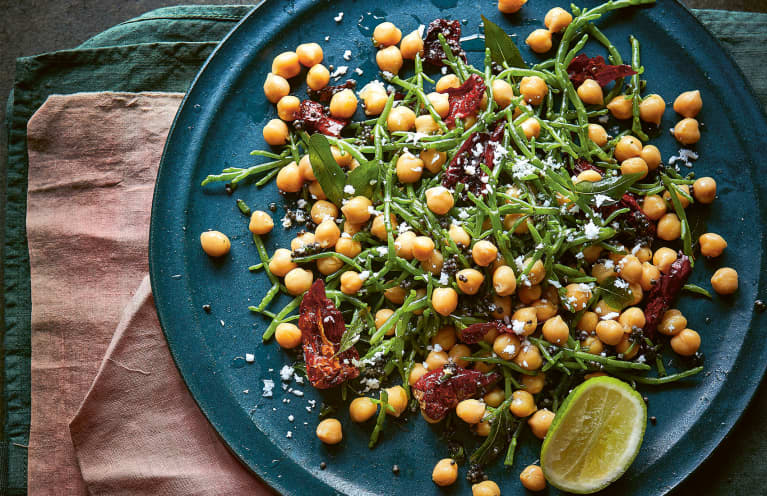 Our editors have independently chosen the products listed on this page. If you purchase something mentioned in this article, we may earn a small commission.
November 11, 2021 — 1:06 AM
You may not hear "snack" and think "salad"—but this dish is the perfect blend of snackable with something fresh and nutrient-dense. From the new cookbook Takari by Rohit Ghai, it combines chickpeas with tempered spices and fresh sea veggies for a satisfying snack.
The dish, chana sundal, is a healthy protein-rich snack, "and is generally served during religious festivals such as Navratri and Janmashtami," writes Ghai. "It's a southern Indian delicacy with an amazing flavour of grated coconut, asafoetida, curry leaves and mustard seeds."
This version does deviate slightly off the normal recipe, with the addition of samphire—also known as sea beans or sea asparagus. This sea vegetable is in season in the late summer, so you may not find it easily this time of year, and comes in a few varieties but marsh samphire is most common. It has a fresh, salty taste that contrasts beautifully with earthier flavors—like the chickpeas in this recipe.
Sea veggies also offer prebiotics, antioxidants, and beneficial minerals like iodine.* Samphire, in particular, has been found to have functional nutrients like fiber, polyphenols, and flavonoids. This recipe is the perfect thing for getting to know this new ingredient alongside a familiar favorite.
Chickpea and Samphire Salad
1 tablespoon coconut oil
2 teaspoons black or brown mustard seeds
6 fresh curry leaves
3 dried Kashmiri chillies, broken into pieces, seeds removed
¼ teaspoon asafoetida (optional, see note)
7 ounces (200 g) tinned chickpeas, drained and rinsed
1¾ ounce (50g) fresh samphire
1¾ ounce (50g) freshly grated coconut,to garnish 
1–2 lime wedges, to serve
Salt
Heat the oil in a large frying pan over a medium-high heat. Add the mustard seeds, swirling the pan occasionally, and fry until the seeds begin to crackle.
Add the curry leaves, chillies and asafoetida and cook, stirring occasionally, for about 45 seconds or until the curry leaves have slightly darkened. 
Add the chickpeas and cook, tossing often, for about 3 minutes, until just warmed through. Leave to cool, then add the fresh samphire and season with salt, to taste.
Garnish with fresh coconut and serve with lime wedges.
https://www.mindbodygreen.com/articles/chickpea-samphire-salad