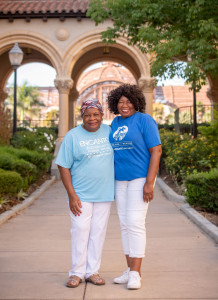 By Kara Jacobsen
Naomi Rogers-Bea loves to walk. Every morning, she wakes up at 6:15 AM and walks 5.6 miles around Chollas Lake with her walking group. It's a daily routine that brings her joy and ensures she's prioritizing her physical – and spiritual – well-being.
Health is very important to Ms. Bea. She has relatives and friends who are living with or caring for someone with dementia. Over the years, she has witnessed the impact of this disease firsthand. She knows how tough of a journey it can be, especially for people that spend years needing or providing care. This is why she has made a conscious effort to get involved with local organizations like Alzheimer's San Diego through her church's support group, and it's why she's excited to be part of the Walk4ALZ on October 16th.
"It is really inspiring to see everyone enjoying themselves, all sharing the common goal of raising funds for a good cause," she says.
Ms. Bea was first introduced to Alzheimer's San Diego through Ms. Lottie Harris, a retired nurse. Ms. Harris created the support group at Bayview Baptist Church in 1995 in the Encanto neighborhood in southeastern San Diego. This was the first group organized to support African Americans living with dementia and their care partners in the area.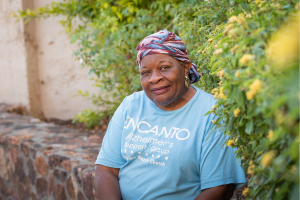 Ms. Harris says that in the beginning, many of the caregivers were reluctant to join the group because of "our nature of not sharing our personal problems, such as health and family issues as they surfaced within the family." The support group branched out to include education opportunities and workshops with knowledgeable speakers about Alzheimer's, dementia, Parkinson's disease, and other topics, resulting in the group growing and attracting members from all walks of life. 
With the help of grant money, Ms. Harris was able to fund meals and transportation to the families for meetings and community outings. These outings provided safe outlets for members such as trips to plays, movies, picnics, dinners at her home, or local restaurants. While COVID-19 brought a halt to the group's in-person meetings, Ms. Harris continues to stay in contact with the members and encourages them to reach out to one another.
The Walk4ALZ ensures all of the services Alzheimer's San Diego provides, including dozens of support groups like the one Ms. Harris leads, are free of cost to the community. Ms. Harris and Ms. Bea are looking forward to reconnecting with the group at the Walk4ALZ at Balboa Park this month. 
Ms. Bea will lead as captain of "Team ENCANTO Alzheimer's Support Group" of Bayview Baptist Church joining the thousands of other participants walking – whether in person or walking from home – to support the 100,000 San Diegans living with dementia. The Walk4ALZ is a lively annual event that brings out Naomi's encouraging and competitive spirit.
"I like to be number one, so I'm always inspired to work hard to fundraise money for dementia research," she says.
Are you ready to Walk4ALZ? Sign up at www.alzsd.org/walk or by calling 858.966.3319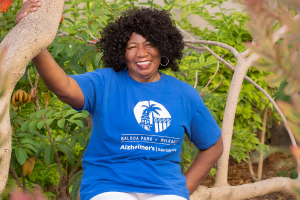 "Growing up, people just didn't know much about Alzheimer's. As family members grew older and were forgetful, we thought it was just because of senility," Ms. Bea explains. "I wish people could really see exactly what caregivers go through. Hopefully, as we're learning more about the disease, more will reach out for help."
Now that more people are becoming aware of Alzheimer's disease and other types of dementia, perspectives have changed. Ms. Harris says she finds people are beginning to be more open to having conversations about it.
Prayer is an important part of life for both Ms. Harris and Ms. Bea. Their advice to those who share their faith is to ask God for strength. They also suggest you reach out to those who can help. This can mean leaning on the Clinical Services team members at Alzheimer's San Diego, joining one of our support groups, or simply asking a friend to come over for an hour once a week so you can get some "me-time" and recharge. That bit of relief can help tremendously in the long run.
To donate to Team ENCANTO, click here >> 
Ms. Harris understands the struggle of being a caregiver, and has firsthand knowledge about finding help and support in the community that provides comfort to the families seeking assistance. It is a big challenge for caregivers to seek help, and too often the family and the individuals suffer in silence, developing a deep sense of embarrassment and denial. 
"The support group is needed," Ms. Harris says, "and there are people out there that care and can help individuals and family members."
Need support? We're here to help! Speak with one of our expert Clinical Care Coaches by calling 858.492.4400 or emailing info@alzsd.org.