Notice: Trying to get property 'child' of non-object in /home/mylove/health.mylove.link/wp-content/themes/jnews/class/ContentTag.php on line 45
 Carrot Fries Are My New Obsession—Here's The Best Recipe I've Tried 
Assistant Beauty & Health Editor
Assistant Beauty & Health Editor
Hannah Frye is the Assistant Beauty Editor at mindbodygreen. She has a B.S. in journalism and a minor in women's, gender, and queer studies from California Polytechnic State University, San Luis Obispo. Hannah has written across lifestyle sections including health, wellness, sustainability, personal development, and more.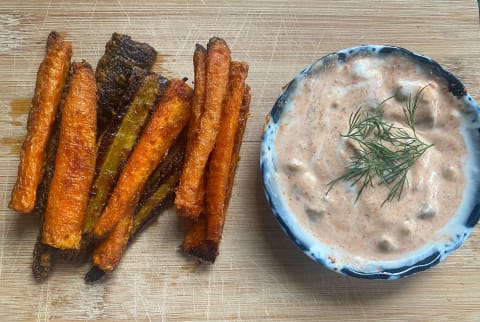 November 10, 2023
We carefully vet all products and services featured on mindbodygreen using our
Our selections are never influenced by the commissions earned from our links.
I've always seen the choice between fries and a salad as a bit extreme. Wouldn't it be nice, I often thought, to have a healthier fry alternative that still provides the salty flavor and warming satisfaction? Luckily, there is—here's my favorite take on a nutrient-rich french fry. 
A simple carrot fries recipe
My must-have as of late is carrot fries. Turning a carrot into a fry isn't a new culinary concept, but rather one that I've finally put to the test. Turns out, a simple seasoning mix and quick preparation method can go a long way. Below, how I transform this nutrient-rich veggie into the perfect salty side dish. 
Serves 2 as a side dish
Ingredients
3 large carrots (washed and dried)
1 tsp garlic powder
1 tsp paprika 
1 tsp cayenne (if you like spice)
1-2 tsp chopped rosemary
2 tablespoons olive oil
Method
Prep your carrots: First, gently rinse and scrub your carrots to release any dirt. Make sure to dry your carrots with a clean towel or leave them out for a few hours to eliminate excess moisture.
Chop: Next, chop your carrots into pieces a bit bigger than traditional french fries—they're going to shrink up a bit when roasted, so keep that in mind. I like to cut mine into pieces about 2 inches in length and ½ to 1 inch in width. 
Season: Toss those chopped carrots into a bowl and add your oil and seasonings. You can get creative here with the flavor if you're going for something unique (think oil and vinegar, truffle, barbecue, dill, etc.). This recipe delivers a classic, versatile flavor with a kick of spice if you add the cayenne. Toss your carrots until each stick is evenly coated and lay them out on a baking sheet for roasting. 
Bake: Crank your oven to 425 degrees Fahrenheit and pop the carrots in the oven. Set a timer for 20 minutes and check on them then—you may want to leave them in a bit longer for extra crisp. 
Pair: You can eat these carrot fries a-la-carte or pair them with a dipping sauce. Some of my favorites include tzatziki (as pictured above), hummus, and mustard, but the options are truly endless. I've even thrown them on a salad as a warm topping. 
Why choose carrot fries?
Look, potatoes are not the enemy, and you certainly don't have to give up classic french fries forever in order to be healthy. That being said, carrots do pack more of a nutrient punch, so they're worth subbing in here or there. 
Carrots are loaded with essential vitamins, minerals, and antioxidants, including vitamin A, vitamin C, potassium, and fiber (just to name a few). Because carrots are rich in vitamin A, they can benefit hormone health by supporting the proper development and functioning of various reproductive hormones. The fact that these carrot fries are baked in olive oil instead of fried in canola oil or another seed oil further improves their nutritional profile.
RELATED: Is The Raw Carrot Salad Worth The Hype? I Asked Around
Of course, this is quite a small serving; not a full course. Carrot fries are a great side dish but do not contain enough protein, healthy fats, or calories to be considered a balanced meal. Instead, use them as a snack, side dish, or topping. 
The takeaway
Carrot fries are a simple side dish that provides the salty and warm satisfaction of classic french fries, plus nutrients like vitamin A, potassium, fiber, and more. Use this recipe next time you're craving a salty snack or need a quick vegetable side dish. If you have leftover carrot greens after trying this recipe, put them to use with this method.