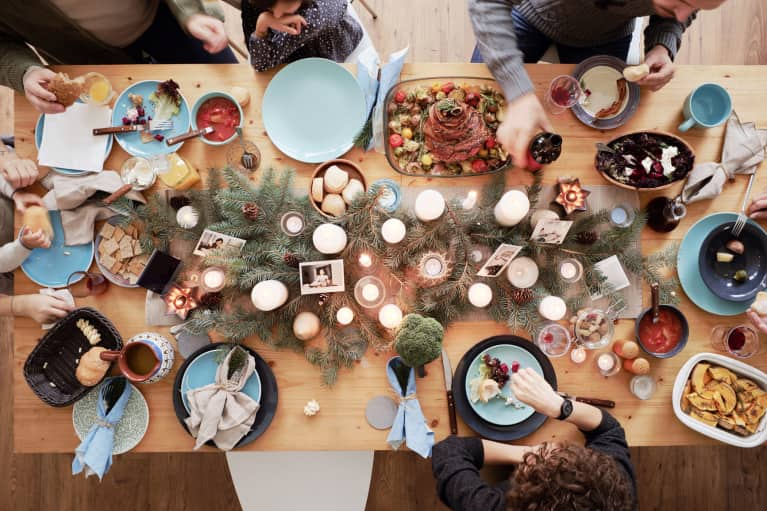 December 23, 2021 — 1:02 AM
If you're last minute planning your holiday table, there's something other than taste you may want to take into account this year: texture. Given that some people who had COVID may not have fully regained their sense of taste yet, giving them a dish that plays on texture will create a more enjoyable food experience. And even if that's not the case, having multiple textures in a dish has other benefits, too—most of all, it makes your dining experience more fun and interesting. Below, some recipes that offer a variety of textures for your holiday menu.
1.
Winter glow wild rice salad
Salad is a perfect dish for playing with texture. Pairing pecan with roasted Brussels sprouts and pomegranate seeds, this salad hits crunchy and fresh a few times over. It's perfect for winter holidays because many of the ingredients are in season.
Get the recipe here.
2.
Ratatouille with sourdough croutons
Looking for a perfect veggie main that has a few textures, too? Ratatouille, with its mixture of vegetables, will offer a diversity in texture among the cooked vegetables—and this recipe does one better by offering crunchy croutons, as well.
Get the recipe here.
3.
Caramelized mushroom steaks
Let the sear on this mushroom dish speak for itself. The slight caramelization will diversify the texture on it's own, plus if you served these alongside rice and pickles (as the author suggests), you'll add bonus crunch and grainy goodness.
Get the recipe here.
4.
Blistered mushrooms with croutons & kale
Speaking of mushrooms, consider this multi-textured sheet-pan dish. Lemon and garlic seasoned mushrooms and olives are paired with crunchy croutons and crispy kale—plus creamy yogurt to finish.
Get the recipe here.
Before you scoff at another salad, this one comes fully loaded with texture—in the form of roasted chickpeas and croutons, plus kale gives a unique texture alongside parmesan cheese and creamy homemade dressing. And yes, it's the second recipe in a row with kale—what can we say, we love that leafy green.
Get the recipe here.
6.
Seared halloumi & orange-glazed beet salad
This dish is a salad, yes—but a slightly more unique variation. This dish features a rainbow of roasted beets and slices of seared halloumi, topped with a sprinkling of arugula, some olives, and crunchy pistachios. If you haven't made them before, roasted beets take on the most amazing texture, and this dish is a stunner for the table, too.
Get the recipe here.
7.
Creamy cauliflower chowder
At first glance, this might not seem like a recipe with a ton of texture—but while there is some bite in the mix thanks to the cauliflower florets, it's all about the toppings here. You finish off the bowls of soup with crispy roasted potatoes and an olive gremolata, which together add a myriad of texture to make it extra exciting.
Get the recipe here.
Even if your whole dinner party fortunately does have their full sense of taste, using texture in your menu is a great way to elevate your feast. It's the type of thing that professional chefs think about all the time, and an easy way to up the ante on your home cooking.
But if these dishes aren't quite what you're looking for, we've got some other holiday recommendations: maybe your more drawn to a Mediterranean-inspired holiday menu?
https://www.mindbodygreen.com/articles/holiday-dishes-with-texture