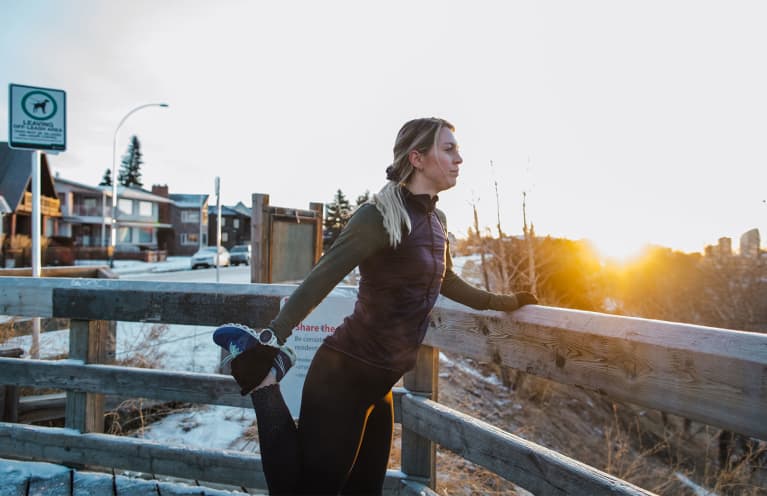 December 22, 2021 — 19:04 PM
The holiday season is well underway, and whether you're about to Zoom into a cocktail hour with friends from afar or safely spend time with loved ones in person, it's fun to prep your glow from the inside out. Here are some key stretch/floss moves and acupressure techniques sure to leave you feeling beautiful and festive.
A quick refresher on fascia flossing.
Fascia flossing is a super efficient and fruitful way to nourish your connective tissues, ease tightness, and get your lymph flowing.
According to traditional Chinese medicine (TCM), the glowy, effortless beauty we often seek is a result of the harmony of chi in our bodies. Chinese medicine is a holistic medicine, meaning that it considers all sorts of factors including—but not limited to—what you put on your skin, what you eat, the environment around you, your stress levels, and more. 
The following sequence is designed to help you feel more aligned both inside and outside, so you can radiate the beauty that surrounds you.
3 floss moves + acupressure pairings:
1.
Small intestine + SI 18:
This stretch is excellent for shoulder posture, lifting your heart, bringing energy to your face and upper body, and igniting your fire element in Chinese medicine (the joyful, passionate, social butterfly and creative side of yourself). Here's a video on how to do it.
Once you finish the quick routine, press down on SI 18, aka the "Cheek Bone Hole," to lift and clear heat, swelling, and puffiness from your face.
Find it in the space directly below the point of your cheekbone (lower border of your zygoma). Press or massage gently for 30 to 60 seconds.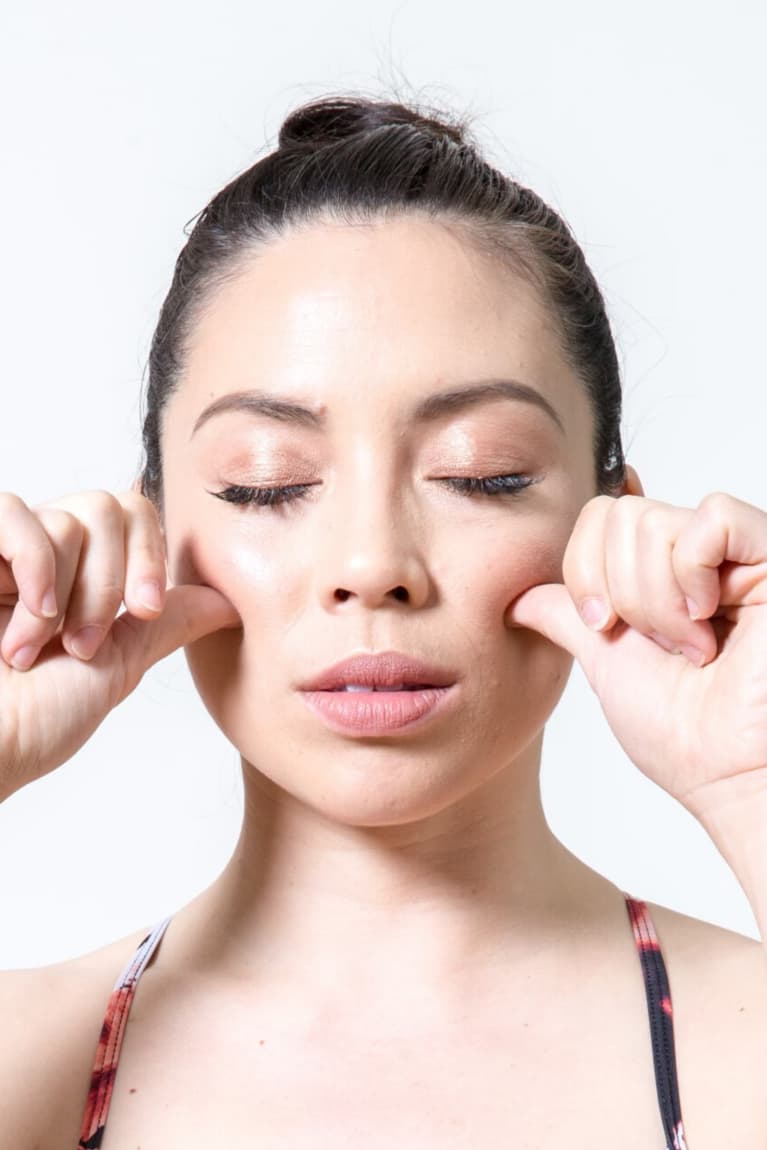 Ah, the hip flexor. Healers have long understood the power of your hip flexors and the radiance emitting from within your center. Regularly flossing your hip flexors will change the tilt of your hips, making it easy to stand taller and connect more naturally to your emotional power center. Here's a video on how to do it.
Follow up that floss by putting pressure on Yin Tang, aka your third eye. You've probably instinctively massaged this area at some point in your life. It's a powerful point that is useful in calming your spirit, soothing stress or restlessness, and physically, it's sure to smooth your brow.
Find it directly between your eyebrows. Press or massage gently for 30 to 60 seconds.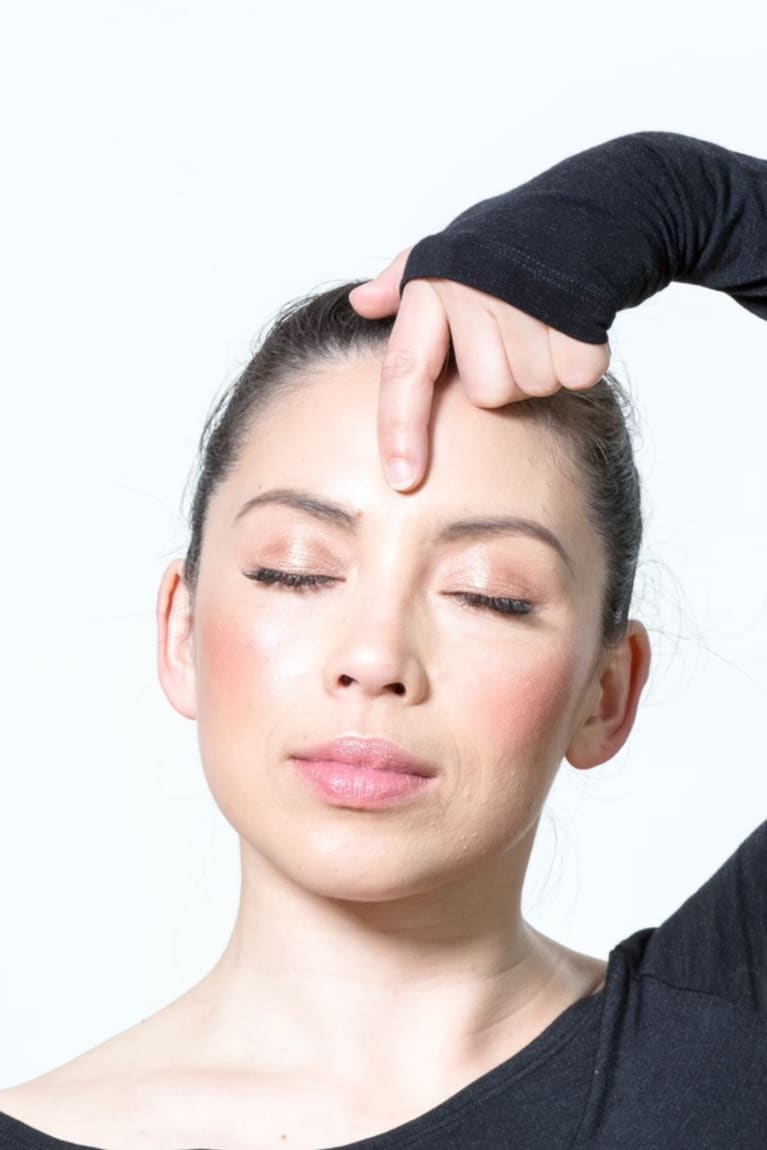 You may have gleaned from the name, but the stomach meridian is an important area of focus for your digestion. This energy channel runs from your face all the way down your quadriceps to the tops of your feet. Flossing the ST line will support a healthy metabolism, give you an energy boost, and also help you feel more grounded. Here's a video on how to do it.
Pair this with an acupressure routine at point ST 7, located at your jaw hinge. This will help relieve facial tension. Find it by opening your mouth and pressing where the muscle bulges out at your jaw hinge. Close your mouth, and press or gently massage the area where your fingers land for 30 to 60 seconds.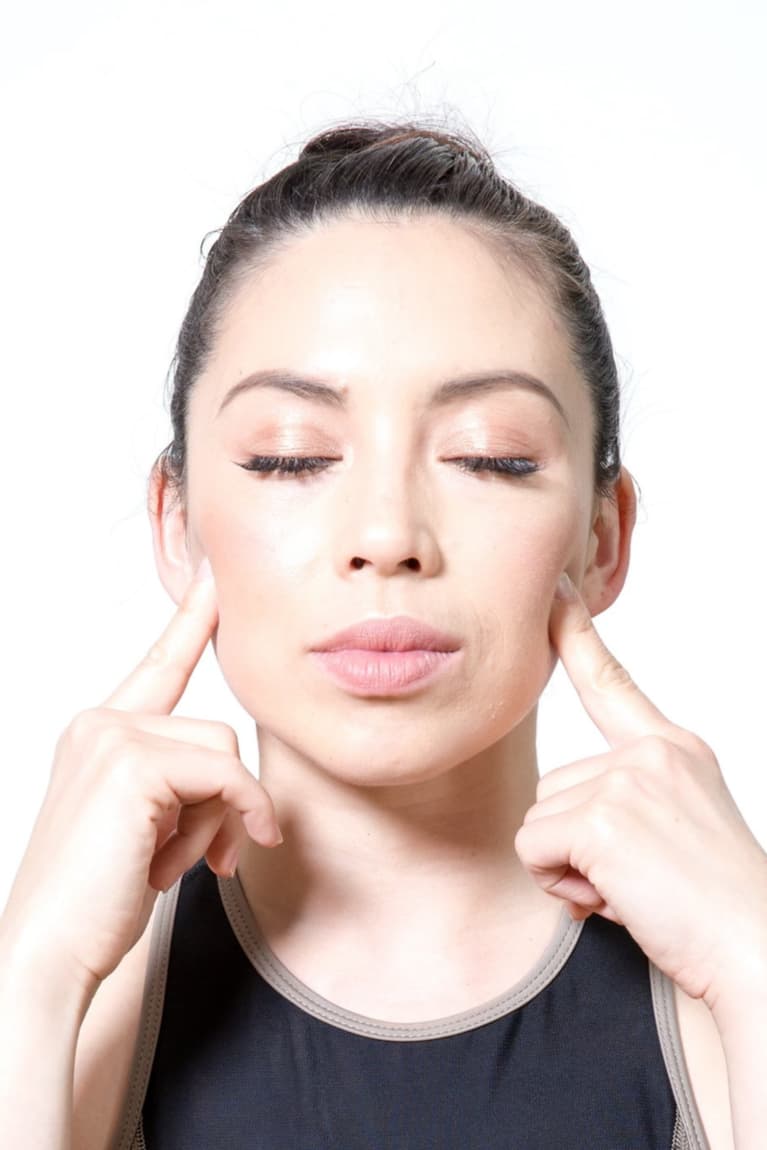 Everything from holiday travel to seasonal stress can take a toll on our bodies, and our chi. The good news is, with a little fascia flossing and some soothing acupressure points, we can loosen up and keep things flowing smoothly in just a few minutes.
https://www.mindbodygreen.com/articles/stretching-and-acupressure-routine-to-help-get-your-qi-flowing